Born in 1959 in Hilversum (the Netherlands), lives in Amsterdam (the Netherlands). Erwin Olaf's art implicitly visualises the unspoken, the overlooked, that which typically resists easy documentation. Olaf's trademark is to address social issues, taboos and bourgeois conventions within the framework of a highly stylised and cunning mode of imagery. With the aid of his razor-sharp aesthetic intuition, Olaf purposely conceals his themes so that the viewer unconsciously and initially accepts the concealment found in his photo series. Yet in the end, his unconventional style never fails to deliver dramatic visual and emotional impact. By providing scenic and striking design, along with the utmost perfect composition in his typical, immaculate 'OWN' style, combined with his passion for conceiving flawless scenarios, he vividly captures the essence of contemporary life. Mixing photo journalism with studio photography, Olaf emerged on the international art scene in 1988, when his series Chessmen was awarded the first prize in the Young European Photographer competition. This award was followed by an exhibition at the Ludwig Museum in Cologne, Germany in the same year.
In his earlier work on the subject of social exclusion Olaf was deliberately disturbing with the intention of raising awareness and he was dedicated towards exploring issues of class, race, sexual taste, beliefs, habits and grace. In the series Rain (2004), Hope (2005), Grief (2007) and Fall (2008) Olaf challenges the notion of domestic bliss. Dusk (2009) and Dawn (2010) show how culture can become repression, despite a beautiful appearance. A similar disengagement takes place in Olaf's Hotel (2010) series in which he explores the subtle range of detached melancholic emotions in dimly-lit exquisitely furnished timeless hotel rooms. In the series The Siege and Relief of Leiden (2011) Olaf depicts a number of now iconic scenes from the relief and brings the leading figures together in a dramatic setting. His recent series Keyhole (2011/2012), centered around Erwin Olaf's first 3D installation The Keyhole (already in the collection of the Museum voor Moderne Kunst Arnhem, The Netherlands and the Samsung Children's Museum, Seoul, South Korea) balances on the thin line between intimacy, shame and feelings of guilt. In 2012 Erwin Olaf created series Berlin, entirely shot on location. Using historically important settings in Berlin Erwin Olaf shows children and (young) adults in a transcendent relation with each other.

In 1987 he began working with film which has since then continued to be an important medium for his art. Often these movies provide a parallel history to his colour photography. In the past years Olaf's films have been screened at several leading museums and film festivals all around the world. A selection of screenings at museums as Centre Pompidou – Paris, Reina Sofia National Museum – Madrid, SCCA, Centre for Contemporary Art – Ljubljana, and the Museum at FIT – New York. A selection of screenings at film festivals: Fashion Film Festival – Melbourne, Rencontres Internationales Film festival – Paris, International Film Festival Turkey – Ankara, EMAF Festival – Osnabrück, International Film Festival Rotterdam.
Olaf's visually sophisticated and conceptually provocative style has been embraced by the advertising world. His worldwide campaigns for Diesel Jeans and Heineken won him the coveted Silver Lion at the Cannes Lions Festival for Advertising. In 2010 Louis Vuitton commissioned Olaf for a portrait series in collaboration with the Rijksmuseum Amsterdam. He also won numerous other international art and media prizes, such as Photographer of the Year in the International Colour Awards in 2006. In 2008 he received a Lucie Award from the United States of America for his achievements in photography. In 2011 he won the 2 prestigious Dutch State price of the Arts, Johannes Vermeer Award. The jury selected him because of the high quality of his entire body of work.

SELECTED RECENT AWARDS
2011 The Johannes Vermeer Award, State prize for the Arts of the Netherlands
2011 Mobius Awards' Photographer of the Year (USA)
2009 Px3, Prix de la Photographie (Paris), Photographer of the Year
2008 Lucie Achievement Award (USA)
2006 International Colour Awards, Photographer of the Year (USA)

SELECTED RECENT EXHIBITIONS
2013 Berlin, Hasted Kraeutler, New York (solo)
Berlin, Hamiltons Gallery, London (solo)
Emotions – Installations by Erwin Olaf, La Sucrière, Lyon (solo)
2012 Erwin Olaf Short Stories, Gallery Wagner + Partner, Berlin (solo)
Erwin Olaf Works 2000 – 2012, Art Statements Gallery, Hong Kong (solo)
Erwin Olaf. Regressive, Museum voor Moderne Kunst Arnhem (solo)
Erwin Olaf, Gallery Kong, Seoul (solo)
Basic Instincts, OCT Art & Design Gallery, Shenzhen
MEGACOOL 4.0, Jugend und Kunst, Künstlerhaus, Vienna
Dusk&Dawn, Grief, La Tristess Riche, Rencontres Internationales, Beirut, Berlin,
Paris, Madrid
Vanitas. Contemporary Reflections, Moscow Museum of Modern Art
Dusk & Dawn, Guatephoto, Guatemala City
2011 Erwin Olaf – Captured Senses, CerModern Museum, Ankara (solo)
High Tension, Carbon 12 Dubai (solo)
Erwin Olaf, Art Statements Gallery, Tokyo (solo)
Vrijheid! Leidens Ontzet 1574 – 2011, Museum de Lakenhal, Leiden (solo)
Erwin Olaf, Nordic Light International Festival of Photography, Kristiansund,
Norway (solo)
No Fashion Please, Kunsthalle Wien, Vienna
Beauty/Culture Exhibition, The Annenberg Space for Photography, Los Angeles
Dusk & Dawn, Museo Nacional Centro de Art Reine Sofia, Madrid (screening)
Dusk & Dawn, Haus der Kulturen der Welt, Berlin (screening)
2010 Private Lives, Foundazione Forma per la Fotografia, Milan (solo)
Dusk and Dawn, Hermitage, Amsterdam (solo)
A Journey to excellence, Rijksmuseum, Amsterdam (solo)
Hotel, Dusk & Dawn, Hasted Kraeutler, New York (solo)
Recent works, Hamiltons Gallery, London (solo)
Decadence Now! Visions of Excess, Gallery Rudolfinum, Prague
Cinema X: I Like to Watch, MOCCA Museum, Toronto-Ontario
Atopia, Art and the city in the 21st century, CCCB, Barcelona
Grief, The Museum at FIT, New York (screening)
2009 Darts of pleasure – 1984-2009. Domus Artium 2002, Salamanca (solo)
Photographie & video: Rain, Hope, Grief, Fall et d'autres Oeuvres, Institut
Néerlandais, Paris (solo)
EyeCandy 1984-2009, Photo Museum Antwerp, Antwerp (solo)
Dusk, Flatland gallery, Utrecht (solo)
Fotográfica Erwin Olaf, Nueveochenta Gallery, Bogotá (solo)
Corner Specific: Erwin Olaf Moving Targets, Haifa Museum of Art, Haifa (solo)
Erwin Olaf SOLO, Grand Manege, Moscow (solo)
A choreography of emotions, Langhans Gallery Prague, Prague (solo)
Amsterdam / New York Perspective: Dutch Photography in New York,
Museum of the City New York, New York
The Non-Age, Kunsthalle Winterthur, Winterthur
All that is Solid melts into air, M HKA, Antwerp
Rouge & Le dernier cri, Ankara International Film Festival, Ankara (screening)
2008 Selected works Erwin Olaf, Australian Centre for Photography, Sydney (solo)
Rain, Hope, Grief, & Fall, The Hague Museum of Photography, The Hague
(solo)
Still Living; Structure, Surface and Expression, SECCA Museum, Winston-Salem
(solo)
Short stories in contemporary photography, Museum of Design, Zurich
Le dernier cri, Museum of modern Art-Kino Lab, Warsaw (screening)
Grief, European Media Art Festival, Osnabrueck (screening)
2007 Grief, Reflex, Amsterdam (solo)
Rain, Hope, Grief, M+B Gallery, Los Angeles (solo)
Le dernier cri, Galerie Rabouan Moussion, Paris (solo)
Belleza Pericolosa, PAN/Palazzo delle Arti Napoli, Naples
Dangerous beauty, Chelsea Art Museum, New York
Grief, Rencontres Internationales Paris, Berlin, Madrid (screening)
2006 Rain & Hope, Hasted Hunt Gallery, New York (solo)
l'Esprit du Nord/Spirit of the North, Maison Europeenne de la Photographie,
Paris
Photo Show 101006, Gana Art Gallery, Seoul
Why look at Animals, George Eastman House, Rochester, USA
2005 Moving Targets, MonteVideo, Amsterdam (solo)
Elegance and perversity, Australian Centre for Photography, Sydney (solo)
Fashion and Style Photography, Moscow Museum of Modern Art, Moscow (solo)
Veritas splendor, Erwin Olaf photographs 1988-2003, Museum Sztuki, Lodz
(solo)
Golden Age, Foam, Amsterdam (solo)
Baroque and neo-baroque. 'The hell of the beautiful', Salamanca Arts Centre,
Salamanca
Going Dutch, Museum of new art, Pontiac
2004 Imitation of Life, GAM/Modern Art Gallery of Bologna (solo)
Rain, Reflex Amsterdam (solo)
Morocco, De Nieuwe Kerk, Amsterdam
East-West RetroActive, Arts Statements Gallery, Hong Kong
Lies, Lust, Art & Fashion, Podewil, Berlin
Le Cinema des photographes Neerlandais, Institut Neerlandais, Paris
2003 Silver, Erwin Olaf – 25 years of photography, Groninger Museum, Groningen
(solo)
Melting pop, Palazzo delle Papesse, Siene
2002 Paradise, Galeria Espacio Minimo, Madrid (solo)
Booby Trap, Museo D'Arte Provincia di Nuoro, Italy (solo)
Royal Blood, Bilbao Arte, Bilbao (solo)
Paradise, B&D Studio, Milan (solo)
FFF Videoshow, Centraal Museum, Utrecht
The mask, La Giarina Arte Contemporanea Verona
Citizen K. Exhibition, Mois de la Photo, Paris
2001 Mature, Laurence Miller Gallery, New York (solo)
Retrospective, Museum of Modern Art, Hasselt (solo)
Mature, Groninger Museum, Groningen
Erwin Olaf, Transphotographiques, Lille
Action, Galway Art Centre, Galway, Ireland
1998 Chessmen, Museum Ludwig, Cologne, Germany (solo)
1996 Stars in Black & White & Colour, Roslyn Oxley9 Gallery, Sydney (solo)
1995 Erwin Olaf Fotografiën '84-'95, Stadt Museum Erlangen, Germany (solo)
Erwin Olaf, Frankfurter Kunstverein, Frankfurt (solo)
Erwin Olaf, 10 years of photographs, Wessel O'Connor Fine Art, New York (solo)
1993 Joy, Kunsthal, Rotterdam (solo)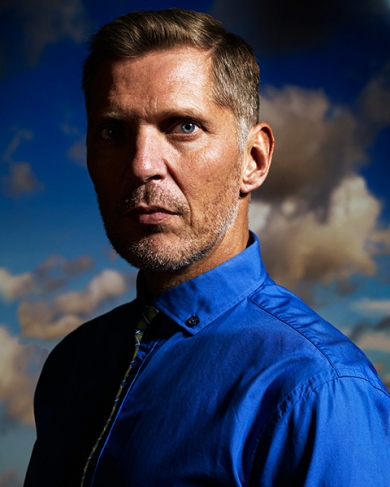 Erwin Olaf
Geboren 1959 in Hilversum (the Netherlands),
lebt in Amsterdam.

SELECTED PUBLICATIONS
Own, Lido, 2012 / Vite Private, Contrasto, 2010 / Erwin Olaf (Aperture), 2008 / Grief,
2007 / Rain/Hope, 2006 / Silver, Groninger Museum, 2003 / Joy, Kunsthal Rotterdam, 1993

SELECTED FILMS
2012 Keyhole
2011 Couple In House
2010 Vente Privée
La tristesse riche
Hermitage
2009 Dusk & Dawn
2007 Grief
2006 Le Dernier Cri
2005 Annoyed
Wet
2004 Rain
2003 Separation
2000 Spanking Clowns

SELECTED COLLECTIONS
21C Museum, USA
Arad Collection, London, England
Ars Fundum, Spain
Art Progressive Collection, USA
Blue Collection, Switzerland
Caldic Collection, Rotterdam, The Netherlands
Centraal Museum, Utrecht, The Netherlands
Coff Collection, Spain
Collection Netherlands Ministry of Foreign Affairs
Collezione La Gaia, Piedmont, Italy
Collezione Lanfranchi, Milano
Collezione Lavazza, Torino
Flatland Foundation, Amsterdam, The Netherlands
FNAC Collection, Paris, France
George Eastman House, USA
Gemeente Museum, Den Haag, The Netherlands
Groninger Museum, Groningen, The Netherlands
Inelcom Collection, Spain
ING Art Collection, Amsterdam, The Netherlands
Ludwig Museum, Cologne, Germany
Martin Margulies Collection, USA
Museum Artium, Vitoria-Gasteiz, Spain
North Carolina Museum Of Art, Raleigh, USA
Prentenkabinet, Leiden, The Netherlands
Rabobank, Amsterdam, The Netherlands
REFI – Vente-Privee Collection, Paris, France
Rijksmuseum, Amsterdam, The Netherlands
Robert and Renee Drake Collection, Wassenaar, The Netherlands
Rosenblum Collection, Paris, France
Salsali Private Museum, Dubai, United Arab Emirates,
Sir Elton John Collection, England and USA
Stedelijk Museum, Amsterdam, The Netherlands
The Franks-Suss Collection, England